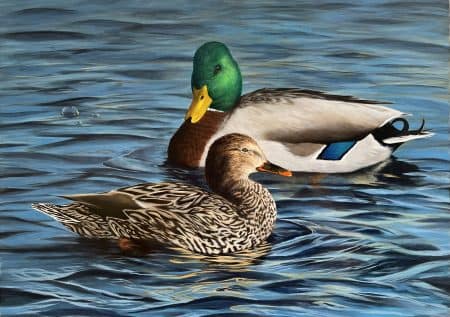 Limited edition prints of my painting for the 2023 Maine Duck Stamp will be available soon! This year I was honored to have my artwork chosen as the winning design for the Maine Migratory Waterfowl Program.
In 1984, the Maine Dept. of Inland Fisheries and Wildlife instituted a state duck stamp program. The stamp was required by hunters 16 years and older. In 2002, MDIFW discontinued the duck stamp requirement of hunters, but instead required the purchase of a State Migratory Waterfowl Permit on the hunting license. (Note, hunters also need a Federal Migratory Waterfowl Permit).
Duck stamps are still available for purchase by collectors, and revenue from the sales of the stamps are dedicated to waterfowl conservation programs in Maine.
Wildlife Recognition Print
Limited Edition Prints are in!
My painting "Penobscot Pursuit" will be used for the Maine Department of Inland Fisheries and Wildlife Recognition print for 2023.
I have a small number of prints available for sale to the general public.
Hand signed and numbered, printed on 12"x15" (image 9×12.5) archival quality paper with fade resistant inks, they include a protective sleeve.
I am honored to be the chosen artist to help support MDIFW's mission:
"MDIFW protects and manages Maine's fish and wildlife and their habitats, promotes Maine's outdoor heritage, and safely connects people with nature through responsible recreation, sport, and science." https://www.maine.gov/ifw/about/index.htmlWil
My painting features a smallmouth bass in pursuit of dinner in the Penobscot River. The Penobscot is New England's second largest river, the main stem emptying into Penobscot Bay near the town of Bucksport where I first settled in Maine.

Wood Duck – Acrylic
Maine Duck Stamp Honorable Mention 2022
"Penobscot Pursuit" 
Original Acrylic Painting 16×20